SIMPLY HAVING RECYCLED FABRIC DOESN'T MAKE A GARMENT SUSTAINABLE.
For us, being sustainable is not just about the fabric. It's about the thread, the labelling, the packaging and the pay and working conditions from start to finish. All this, and the fabric, helps make a garment sustainable.
This page takes you on a journey on every aspect of the pieces we make. We show certifications and explain what we have done and even where we have fallen short. We show this, honestly, because this is how we grow and learn.
WHEN COVID HIT 72% OF BUYERS REFUSED TO PAY FOR RAW MATERIALS ALREADY ORDERED AND PAID FOR BY THEIR FACTORIES
*fashionunited.uk
98.1 % OF RETAILERS REFUSED TO CONTRIBUTE TO THE COST OF PAYING THE PARTIAL WAGES TO FURLOUGHED WORKERS THAT THE LAW REQUIRES.

THE RUBBISH RANGE. WHY THIS RANGE IS SO IMPORTANT TO US.
Every month on average the recycling plant we work with takes in 800 tonnes of fabric cutting waste from clothing production. To produce this 800 tonnes, it requires 160 million litres of water, 6 months of 24 hour farming and 1967 acers of land… that's 5 times the size of London!
When the global pandemic hit, factories and fabric mills around the world came to a halt. Orders which had been placed, sewn and even shipped were not paid for by retailers leaving their supply chain and so called 'partners' abandoned.
During the chaos of the world shutting down 72% of buyers refused to pay for raw materials already ordered and paid for by the factories. 91% refused to pay for the making of the orders they had committed to, and a huge 98.1 % refused to contribute to the cost of paying the partial wages to furloughed workers that the law requires.
TOBEFRANK are proud to say that we work very closely to our supply chain partners and seeing them struggle through this time was hard. We tried to help where possible and this range is part of that help.
Our RUBBISH RANGE is made from recycled fabric cuttings which would normally end up in landfill and abandoned fibre from retailers walking away from their commitments due to the pandemic.
THIS RANGE IS MADE FROM RECYCLED FABRIC CUTTINGS WHICH WOULD NORMALLY END UP IN LANDFILL AND ABANDONED FIBRE FROM RETAILERS WALKING AWAY FROM THEIR COMMITMENTS.

Our beautiful 330-gram brushed fleece is made from a combination of recycled cotton/poly as well as abandoned yarn due to COVID-19. With the rib made to match our incredible partners in Turkey have developed the perfect cosy fleece to keep us warm this winter.
As well as Fleece, our unique 180 gram doubled combed recycled jersey is used for our t-shirts. This too is a combination of recycled cotton/poly as well as abandoned yarn due to COVID-19. The traditional harder hand feel of recycled fabric is now eliminated with the double combing process ensuring a softer and smoother finish on both sides of the jersey.

Like our jersey the Rib is made from a combination of recycled cotton/poly as well as abandoned yarn due to COVID-19. The heavy weight rib ensure the warmth is trapped in whilst giving you the stretch and functionality expected in your garments.
Fibre is the same as the certifications above
All embroidery and the thread to sew the pieces together is done using recycled thread supplied by Coats, a world leader in sustainable yarn supply.
It may seem that thread isn't important but it takes over 100 yards of thread to sew together one pair of joggers, so it's so important to make sure our thread is as sustainable as the rest of our garment.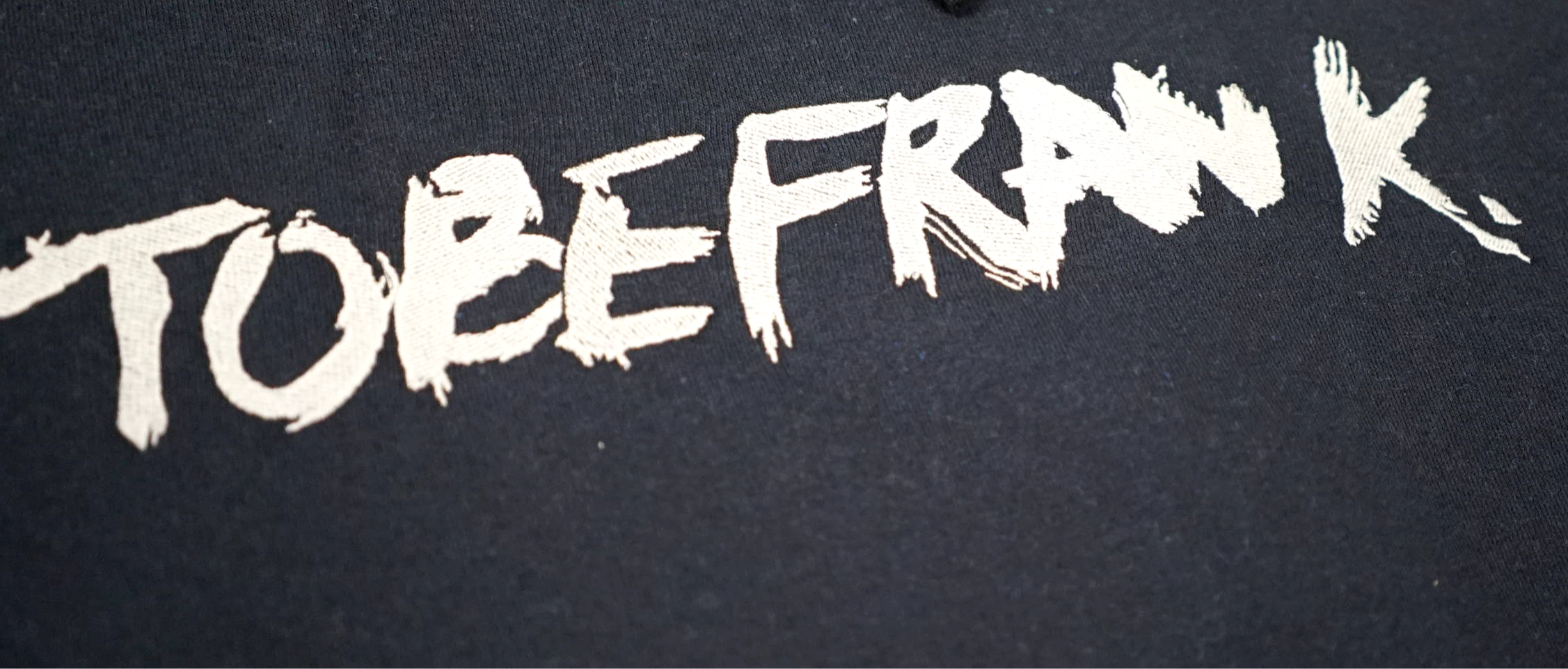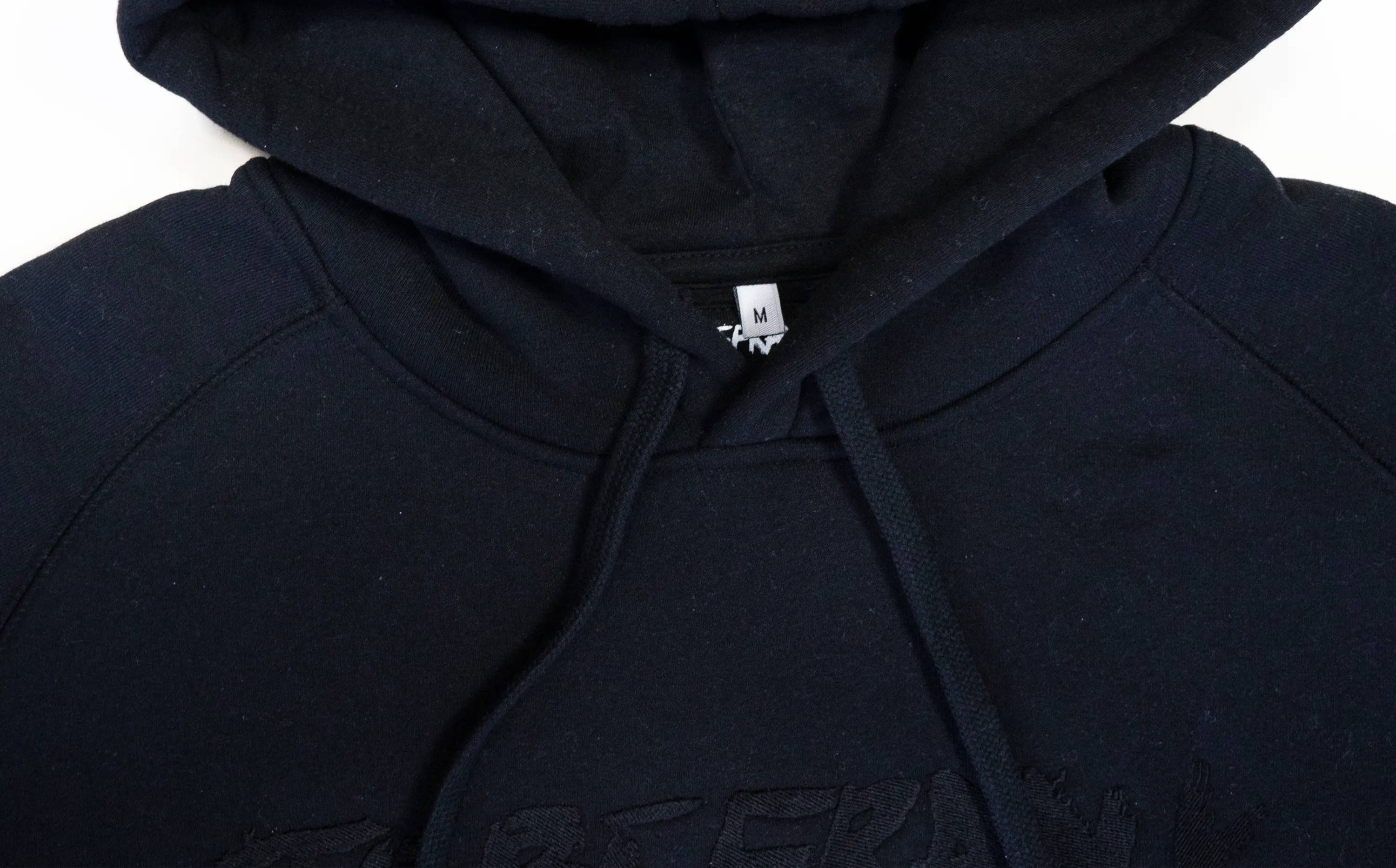 To make it easier for the factory to organise production we added size labels to the product. But don't worry they are all made from recycled nylon.
The fibre was actually ordered from china and used on another brands production, we used what was left over.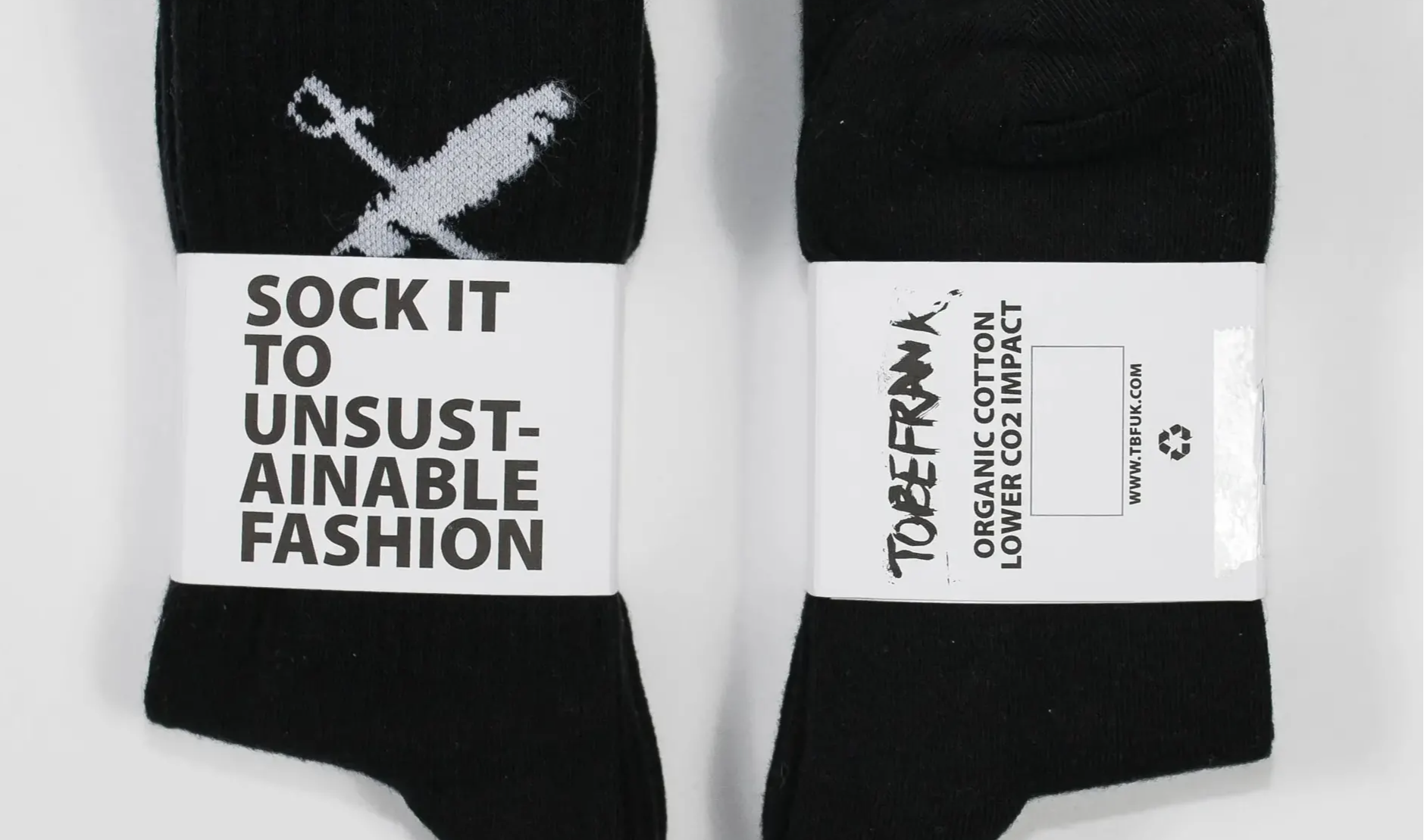 We try not to use too much packaging, we sell online so we don't have need for swing tags and our return form is all online. However, we sometimes need extra packaging to keep things safe or together (Like these socks).
The paper we use is all recycled, 100% recycled in fact. The factory orders in bulk and is one of the largest suppliers of recycled and FSC approved paper packaging.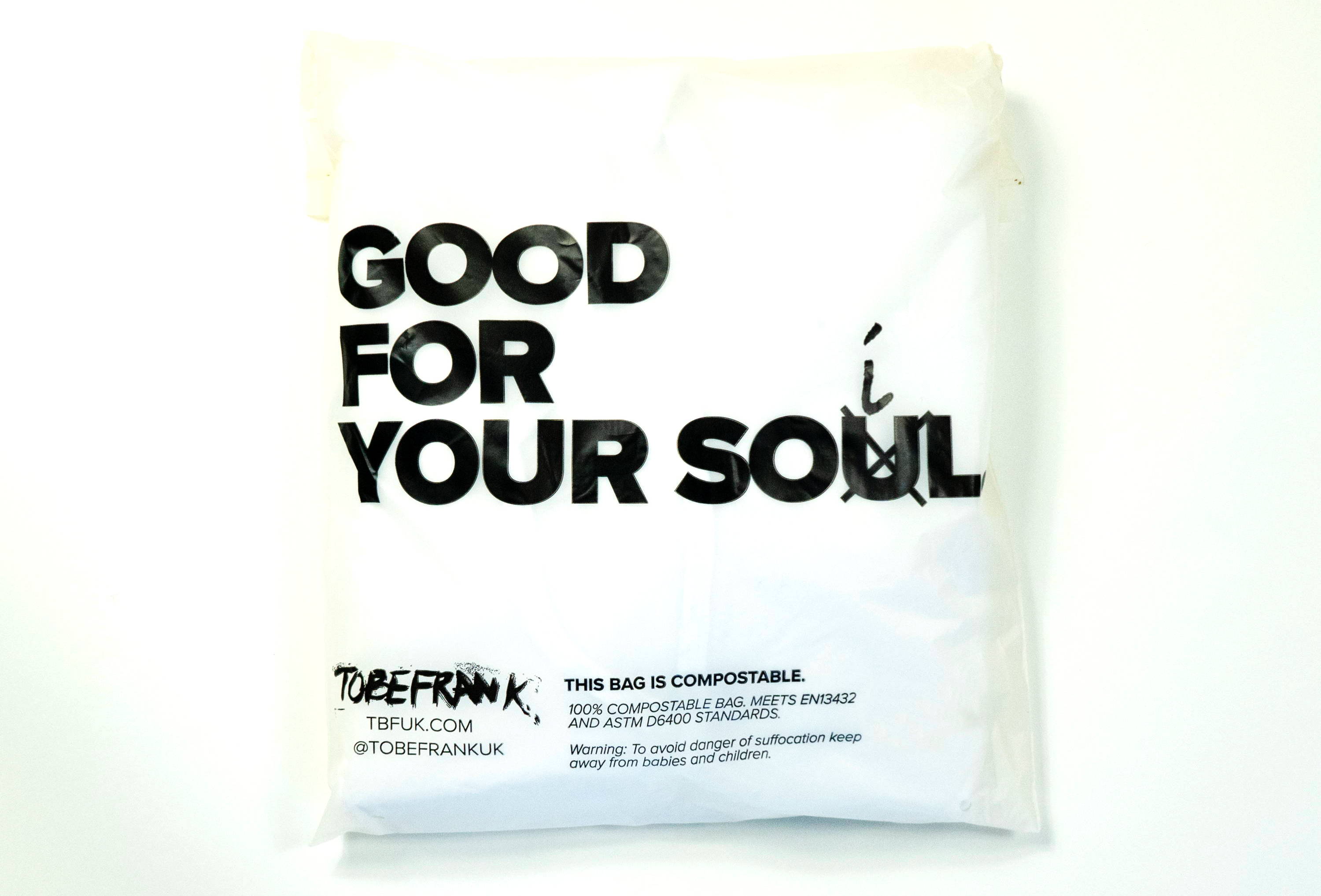 Our garment bags are compostable. Instead of using plastic made from petrochemicals and fossil fuels, compostable plastics are derived from renewable materials like corn starch. Compostable plastics are non-toxic and decompose back into carbon dioxide, water, and biomass when composted.
When it comes to making marketing claims regarding a product's biodegradable or compostable attributes, the ASTM D6400 certification is the industry's gold standard. The ASTM D6400 is the North American equivalent of the European EN 13432.
The European standard EN 13432. EN 13432 requires the compostable plastics to disintegrate after 12 weeks and completely biodegrade after six months.

Our frank code is embroidered using recycled polyester thread. Every aspect of the frank code is considered, planned and then rated. This means that not only can we show visually how each piece is sustainable we can also learn from our results.
These are the results for this new RUBBISH RANGE. All ratings are out of 100%.
GREEN- RECYCLED 100/100 : Main fabric (At least 90% of garment) - 50/50 / Thread- 20/20 / Trims- 10/10 / Certification- 20/20
BLUE- LESS WATER 100/100 : Main fabric production - 30/30 / Using recycled fibres - 20/20 / Dying process - 20/20 / Finishing process- 20/20 /Certification- 20/20
CAMEL- INNOVATION AND TECHNOLOGY 65/100 : Less water - 20/20 / Less labour work -10/10 / New innovation - 0/20 / Fibre tech - 10/20 / Chemical use 10/10 / process innovation 5/10 / Certification- 10/10
GREY- CARBON FOOTPRINT 75/100 :Distance from suppliers -20/20 / Less water - 20/20 /Chemical & energy use - 15/20 Shipment to warehouse including packaging- 10/20 Delivery to customer- 5/10 / offsetting (only when we cannot reduce ourselves) 5/10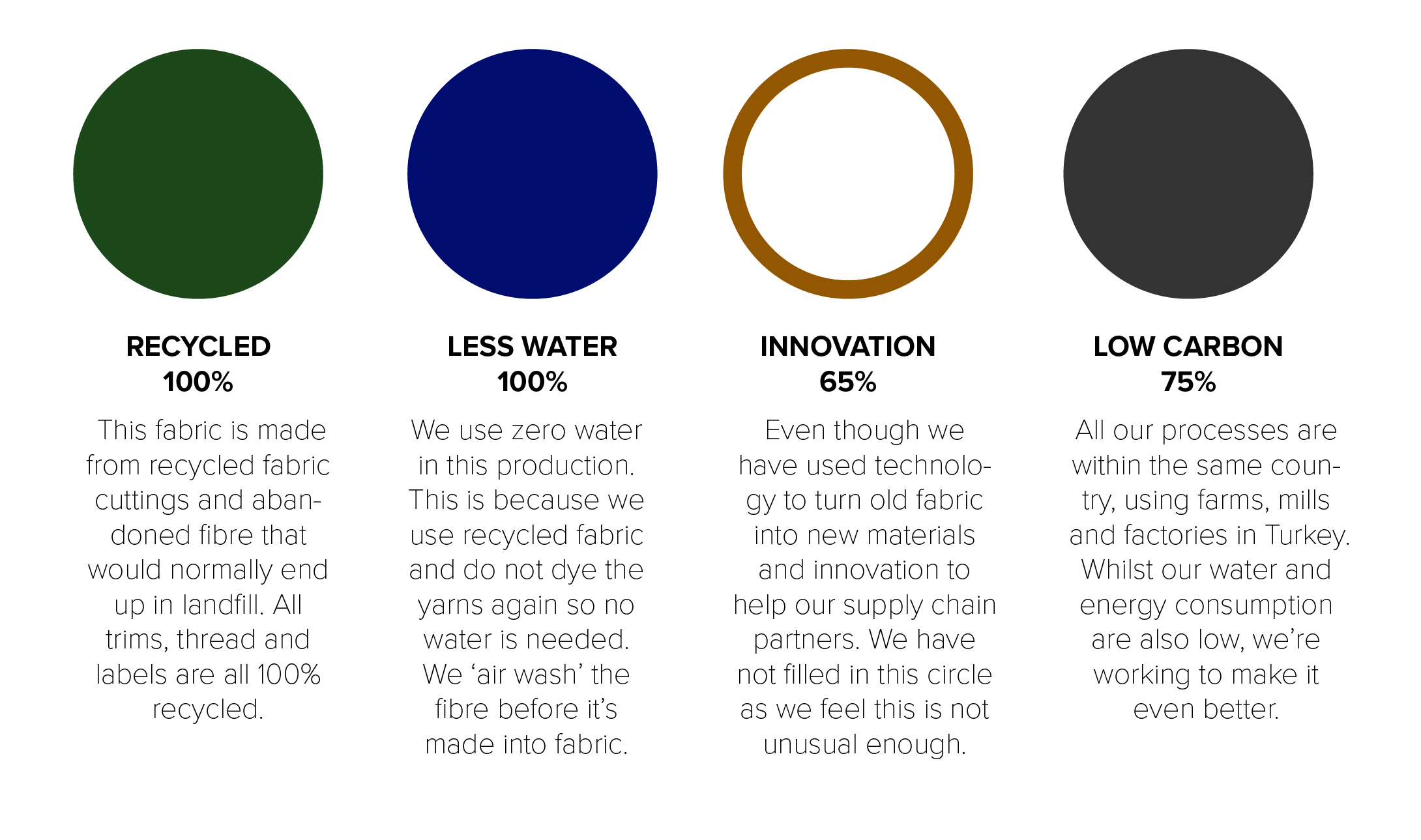 This is a messy example of Frankie's (TBF Founder) domino effect. This is planned out before production begins and then is updated throughout the sampling and production process. This shows every impact each garment has, from where it's sourced and how this impacts the farmers or the mill workers and the amount of natural resources we use. This is always a working progress and we are always learning how to get better.
Fair wages, treatment and opportunity, shouldn't be a lot to ask for should it? We are extremely passionate about being fair to our supply chain partners and their workers. Please see our section focused on fair wages by clicking the link below.
WE'RE NOT PERFECT. WE'RE LEARNING EVERYDAY HOW TO MAKE THE WORLD A BETTER PLACE THROUGH FASHION.
We will continue to update this page, if you have any questions or feel like we are missing any key information, please get in touch on hello@tbfuk.com.