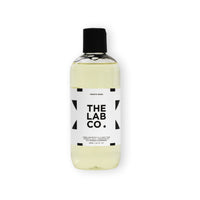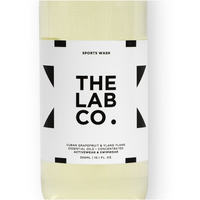 THE LABCO SPORTS WASH 500ml
FUNCTION: The LabCo's mission was to create a natural detergent that was actually powerful enough to deal with activewear and swimwear and they are confident their Sports Wash does just that. Designed to fight strong body odours and remove tough stains like grass and mud whilst also eliminating chlorine and salt that can ruin your swim attire - all without the need for any harsh chemicals.
FRAGRANCE: They have carefully blended uplifting Cuban Grapefruit with the de-stressing properties of Ylang Ylang to ensure you have a clear head and feel energised whatever activity you choose.
BENEFITS:
Concentrated / Up to 20 Washes
Plant Derived Ingredients
ZERO harsh chemicals & Toxins
ZERO Phosphates, OBAs and FBAs
Protects structure of fabric fibres
Eliminates the need for dry cleaning
Made in the UK
Made by The LabCo, specialists in environmentally friendly laundry washes. At The Lab Co, they are on a mission to tackle the huge global wastage problem by encouraging people to take better care of their fashion items.
https://www.thelabco.com/collections/washes/products/sports-wash-300ml
When ordered I'm packed in a compostable starch mailer bag, made by Better Packaging.com. Certified (AS5810-2010)
Then finally it's delivered to you by our delivery partners, Parcel Force.