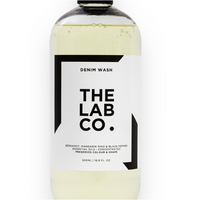 THE LABCO DENIM WASH 500ml
FUNCTION: We've developed the ultimate wash to ensure your denim retains that perfect fit and colour, wash after wash. Our formulation protects the cotton fibres of your denim, locking in the colour, whilst our precise blend of cleaning and conditioning agents ensure your denim maintains its original shape.
FRAGRANCE: This scent is all about keeping things laid back and fresh like it should be when we wear denim.... balancing Bergamot, calming Mandarin Rind with a grind of Black Pepper to give you that extra boost of energy.
BENEFITS:
Concentrated / up to 32 washes
Plant based / vegan
ZERO harsh chemicals or toxins
Preserves fabric
An alternative to dry cleaning*
Eliminates the need for dry cleaning
Made in the UK
Cruelty free
Made by The LabCo, specialists in environmentally friendly laundry washes. At The Lab Co, they are on a mission to tackle the huge global wastage problem by encouraging people to take better care of their fashion items.
https://www.thelabco.com/collections/washes/products/denim-wash-300ml
When ordered I'm packed in a compostable starch mailer bag, made by Better Packaging.com. Certified (AS5810-2010)
Then finally it's delivered to you by our delivery partners, Parcel Force.