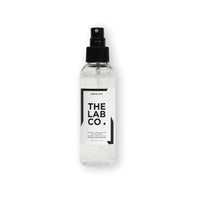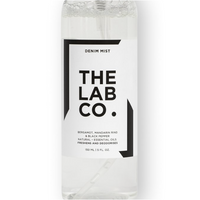 THE LABCO DENIM MIST 150ml
FUNCTION: Washing your denim too frequently can impact its fit, colour and lifespan. Often, all your item needs is a quick refresh and you're good to go... and that's exactly what our Denim Mist has been designed for.
The non-toxic formula eliminates bad odours for good without the need for harsh chemicals. Plus, our formula also helps to protect the fabric fibres of your clothing all in just a few quick sprays, meaning you can walk out the door in a matter of minutes looking and smelling fresh... no hand washing or quick-wash cycle required!
FRAGRANCE: This scent is all about keeping things laid back and fresh like it should be when we wear denim.... balancing Bergamot, calming Mandarin Rind with a grind of Black Pepper to give you that extra boost of energy.
BENEFITS:
An alternative to dry cleaning*
Fragrance booster
Plant based / vegan
Zero harsh chemicals or toxins
Aids fabric preservation
Made in the UK
Cruelty Free
Made by The LabCo, specialists in environmentally friendly laundry washes. At The Lab Co, they are on a mission to tackle the huge global wastage problem by encouraging people to take better care of their fashion items.
https://www.thelabco.com/collections/mists/products/denim-mist-150ml
When ordered I'm packed in a compostable starch mailer bag, made by Better Packaging.com. Certified (AS5810-2010)
Then finally it's delivered to you by our delivery partners, Parcel Force.