WOODY'S LIMITED EDITION TEE'S.
WOODY'S TOBEFRANK FAVOURITES.
Woody connected with TOBEFRANK at the end of last year, Woody had started to become a more conscious shopper and took a keen interest in climate change becoming more passionate about making a difference. But like many people around the world, he did not know what to do or where to start.
Woody became drawn to TOBEFRANK and their uncompromising approach in the creation of their clothing. Not only do TOBEFRANK consider each and every item of sourced material when creating a range, they look at the least impactful way to transport and deliver the garments too, whilst ensuring their supply chain partners are working in a conducive and safe environment.
"WE NEED TO UNITE AND FIGHT WHILE THERE'S STILL LIGHT. IT'S OUR FUTURE AND IT'S OUR CHOICE."
Woody Cook
WHY IS THIS SO IMPORTANT.
The words 'CLIMATE CHANGE' are plastered across our newspapers, social media and television on a daily basis, but unlike what a certain mop haired American says it is NOT just about warmer or colder weather. Scientists estimate dozens of species of plants and animals are going extinct each day by nearly 1,000 times the natural rate. At the current pace, by mid-century as many as 50 percent of the total species found on Earth will have disappeared due to our actions and neglect for the planet and ALL its inhabitants.
Sadly, leaders have not been taking these risks seriously enough due to the many causes of global warming being profitable businesses such as fossil fuels, palm oil and deforestation for agriculture. But YOU AND I can take this seriously and come together to make a stand… And this is the awareness TOBEFRANK and Woody hope to create through the collaboration.
TOBEFRANKS 'Rubbish Range' encapsulates everything the company stands for! Woody was drawn to the ethical process and strong message the range delivers and wanted to be involved in not only promoting the message, but combining this with his strong beliefs and vision for what needs to be done
The words printed across these t-shirts are Woody's words. They are not thought up by a design team or moulded to create a message for hype. These words are from him, from his heart.
Fashion is the second largest polluting industry in the world, but it does not need to be this way. It can be more considerate, more ethical, and far less harmful on our home, our planet. It is the single largest employer in the world so it can make the biggest difference if done RIGHT!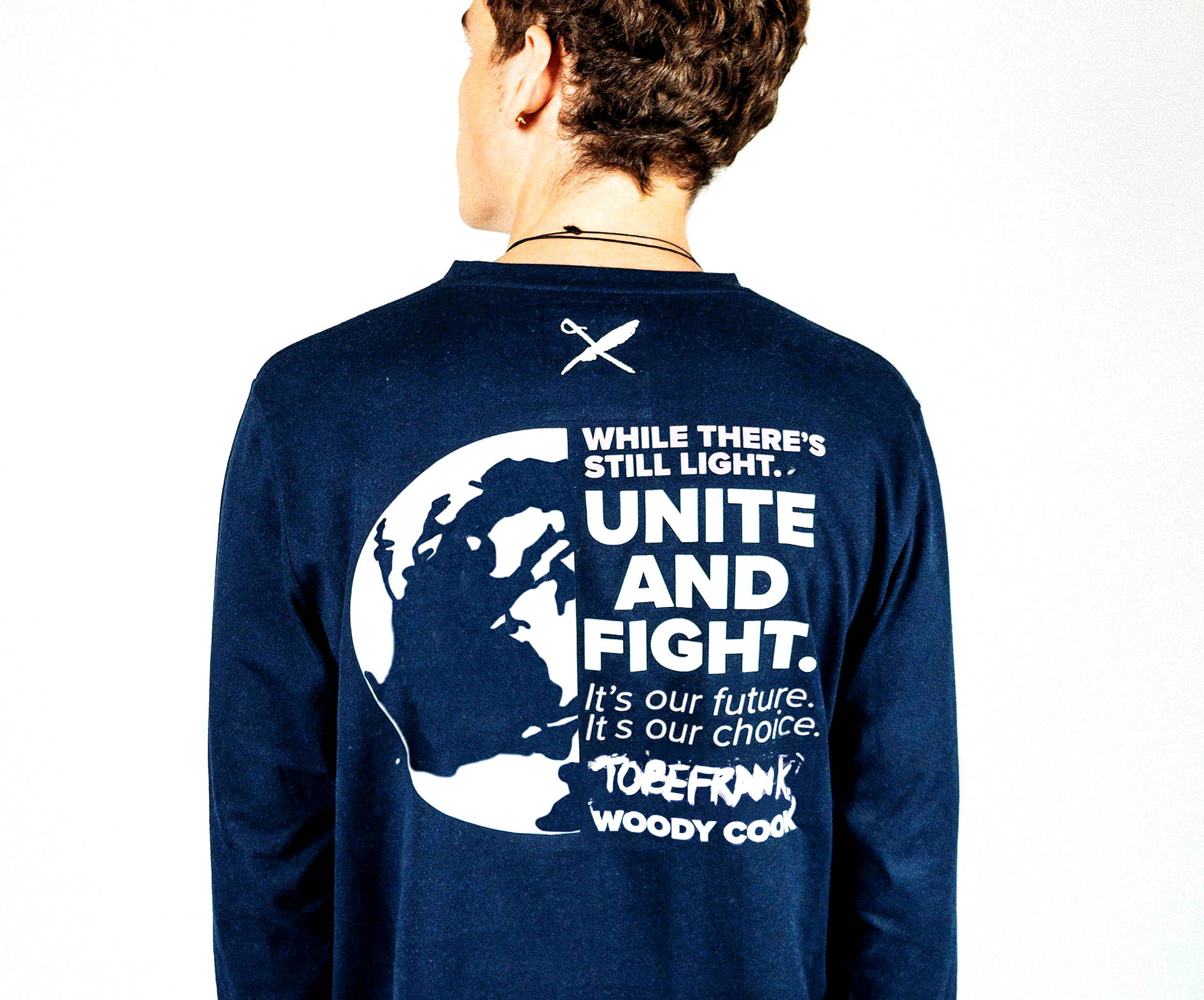 These collaboration tees have been made from leftover production waste and abandoned fibre due to brands turning their backs on their supply chain when Covid hit. Sourced from within the same postcode and using no additional water, no additional chemicals and fully traceable certification to show that we are not talking BS! The thread is recycled, the wash-care is recycled, and all prints have been done using environmentally friendly approved ink. Garments travel in a biodegradable poly bag and are delivered in a biodegradable mailer bag.
All information, certification and detail about the tees can be found on the website with further details are available on the TOBEFRANK impact page.